Raspberry Pi 4B All-in-one Kids' Computer Part 2
I build a custom all-in-one kids computer based on a Sceptre 20" monitor and Raspberry Pi 4B SBC. It was a really fun project and I was able to end up with a clean look and only a single cable needed to power and operate it.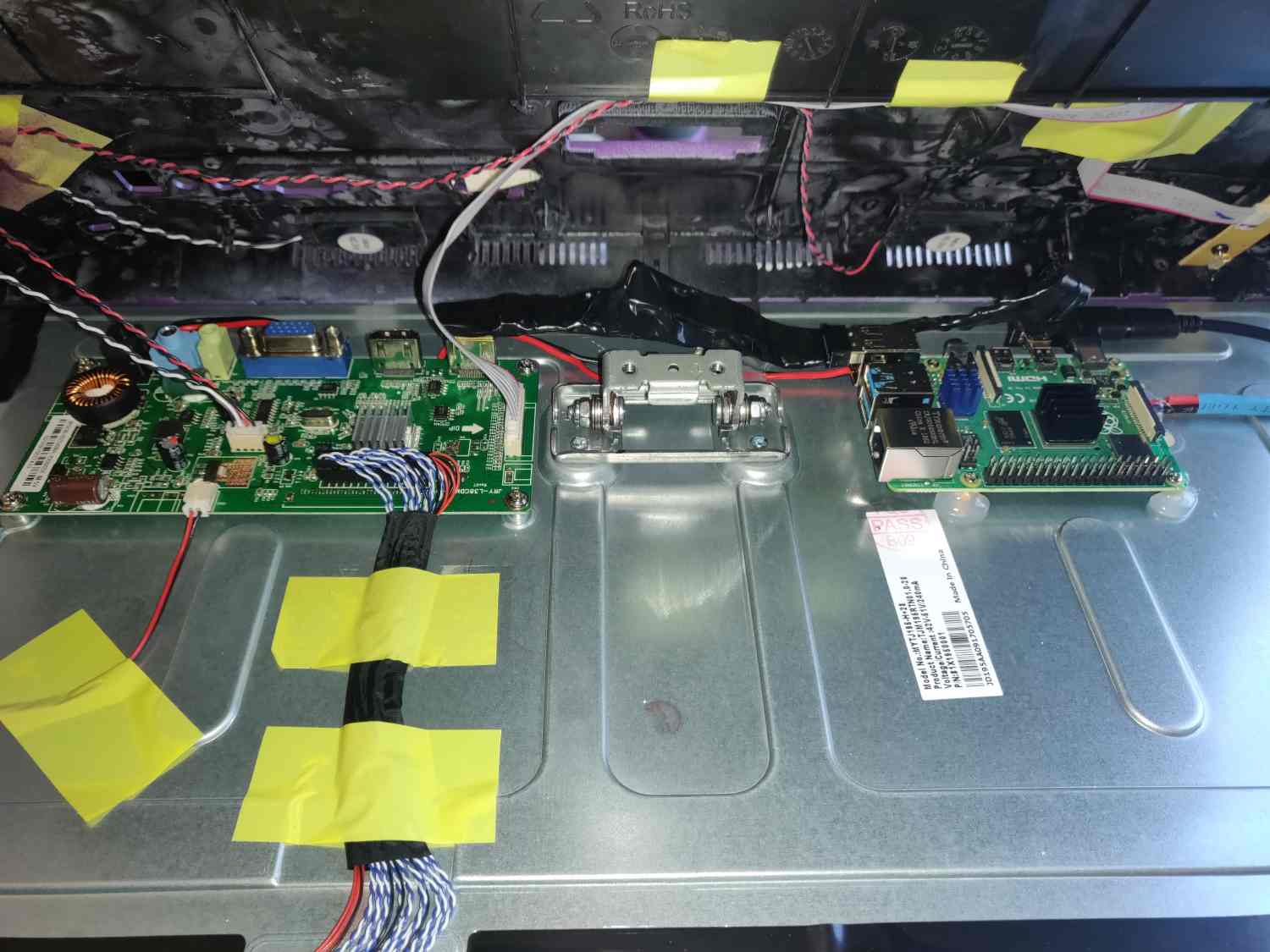 This is a custom build of a kids computer based on a Raspberry Pi 4B 4GB RAM board and housed inside of a 20" monitor case. For info on how I disassembled and painted the monitor, see the Part 1 post.
This was a really fun build to complete. I went into it not sure if I'd actually be able to fit the Raspberry Pi inside the empty space in the monitor, and was pleasantly surprised to find out that it all worked out fairly well. The price of the whole build ended up at around $230 Here are some photos of the build progression and final results, followed by a parts list:
Raspberry Pi 4 All-in-one Kids Computer Part II
Parts List
Monitor/Housing
Sceptre 20" Ultra-Thin Monitor - overall this is a great little monitor for the price (I ordered it at around $80). It is not a premium monitor, that's for sure - but at this price point is is hard to go wrong (I have occasionally seen better monitors for this price, but it is rare)
Kryon All-In-One Purple Gloss Spray Paint - this is the spray paint I used, pretty nice as it has primer mixed in with it - I could have done a better job painting with more prep/patience so I would blame the imperfections on me more than the paint
Unicorn Keychain - because one of the most important requirements was that this be a "Purple Unicorn" computer, I got a unicorn keychain which I cut to size and glued on to the front of the build
Internals
Everything Else
Purple wireless Keyboard/Mouse combo - this is the model of keyboard/mouse I got. It looks like purple is no longer available, but the important part here is that it is wireless with a USB dongle. A wired one would not really be good as I wanted to have no exposed ports on the back. This accepts regular and rechargeable AA/AAA batteries, which I charge using a cheapo charger. This is really convenient as I have a few different sets of keyboards/mice that all use the same battery configuration.
Soldering: I used this soldering iron which I've had for about a month now and really like so far. I used this flux and this lead-free solder. Work was done outside, while wearing a ventilator mask. I will eventually write a (beginner's) guide to electronic component soldering and list more details there.
Hot glue: I used lots of hot glue in this project, as I do in most builds - I used this combo hot glue gun/sticks which is cheap and has worked incredibly well for me.
That's about it. Thanks for checking out the build and I hope you found it interesting!
Please note that I only link products that I have bought and tested myself, and some of the links above are Amazon affiliate links, which I earn a commission from (at no additional cost to the buyer).